What is IACLE?
The International Association of Contact Lens Educators (IACLE) is an educational association dedicated to raising the standard of contact lens education and promoting the safe use of contact lenses worldwide. IACLE was established in 1979 and is a non-profit, non-political association.
Focus
Increase the number of qualified contact lens educators
Improve the quality of contact lens teaching and provide an educational infrastructure thereby increasing the number of skilled contact lens practitioners worldwide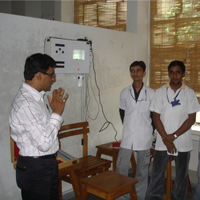 How We Increase Growth in the Contact Lens Market
By identifying, recruiting and training contact lens educators
By "educating the educators" through courses and seminars
By developing and distributing educational resources and providing training on their proper use
By assessment of the level of knowledge and skills of educators and their students
By providing on-going support such as continuing education to educators and practitioners
Structure
Industry sponsors, contact lens affiliations, and a strong network of educators support the IACLE Executive Board in developing and growing the contact lens educational infrastructure. IACLE's global educational structure is divided into 3 diverse regions:
1. Asia Pacific | 2. Europe/Africa-Middle East (EAME) | 3. Americas
IACLE, with its 3 secretariats based in Australia, India and Canada, works across these regions and is driven by an Executive Board and supported by an Industry Advisory Board.
IACLE Resource Centre at Nagar School of Optometry
NSO is been facilitated with IACLE resource centre since 2006 for Contact Lens Educators and students. It's been furnished with modules, CD`s, DVD`s, etc for better understanding of contact lens and its management perspectives.
Four faculties are IACLE members and three of them are register Fellow of the IACLE. One of the members is designated as Resource centre Coordinator for smooth coordination.
Every year IACLE conduct Student trial Exams for final year student to stay at international standards in contact lens practice.